Saturday 15 April 2023
Expert updates
CPR Invest Circular Economy - Thinking circular is moving forward
Last December 14th, CPR AM launched CPR Invest – Circular Economy, a new global thematic equity fund supporting the transition from a linear to a circular economy, a more virtuous economic model. Interview with Anne Le Borgne and Stéphane Soussan.
WHAT ARE THE MAIN MOTIVATIONS BEHIND THE GENESIS OF THE STRATEGY?
Since the start of the industrial era, our consumption and production patterns based on the traditional linear approach "take-make-use-dispose" have been relying on a limitless use of natural resources with little consideration of their repercussions on our planet. It is now more obvious than ever that this economic model generates intense pressure on our planet and its biodiversity and is not consistent with a sustainable development of the economic activity. The move towards a Circular Economy model, which promotes a new approach to how we design, produce, consume and manage waste, offers a real alternative and can play a leading role in reconciling economic growth with environmental preservation. Additionally, the thematic is enjoying a strong momentum and is backed by a growing consensus. On one hand, governments and institutions are accelerating the move through a favourable regulatory framework while on the other, better-informed consumers are also having their word to say by favouring consumption choices guided by ethical and environmentally friendly considerations.
IN BRIEF, WHAT ARE THE MAIN BENEFITS ASSOCIATED TO SHIFTING TO A CIRCULAR ECONOMY?
The implementation of circular principles such as ecodesign, lifespan extension, sharing and repairing among others, contributes in keeping products and materials in use for as long as possible, thus reducing resource use and production, while activities such as recycling allow to close the loop by transforming waste into resources. This way we reduce the amount of waste and pollution created and consequently the greenhouse gas emissions generated across the value chain. On top of that, the atter represent also the root causes of biodiversity degradation. As such, a Circular Economy offers the tools to tackle climate change and biodiversity loss together. The benefits of a circular economy go beyond the environmental aspect. By recycling primary materials and slowing down the rate at which these are consumed, it can help in building supply chain resiliency and reduce import dependency on primary critical resources. Furthermore, conceiving circular solutions will undoubtedly drive an important amount of innovation and present an amazing opportunity for local economies through the creation of new non-relocatable jobs especially in the repairing and recycling activities.
FOCUSING ON THE INVESTMENT UNIVERSE, HOW HAS IT BEEN STRUCTURED TO GRASP THE THEME'S POTENTIAL?
To capture the theme's potential we select companies that either propose and/or adopt innovative circular solutions all along a product's journey. Indeed, our investment universe reflects a circular approach in all the stages of product's lifecycle spanning resources, production, consumption and waste treatment. More concretely, our investment universe has been structured around four main dimensions. The first one, Circular Supplies, includes companies engaged in renewable energy, green chemicals or in bio-based and building materials while the second one, Circular Industry, englobes companies that provide solutions allowing to boost product efficiency e.g. automation or precision agriculture as well as those involved in sustainable packaging and mobility with a special focus on electric vehicles. The companies entering the third dimension, Responsible Consumption, are selected based on their eco-design and recycling policy and their environmental engagements. In this dimension we can find companies that promote the sharing economy including rental companies or online market places for second hand goods but also nutrition companies that offer organic food or alternatives to animal proteins. Lastly, the Resource Recovery dimension, is manly composed of companies that focus on waste and water management. At inception, our thematic universe covers around 400 stocks.
THE ADOPTION OF A RESPONSIBLE APPROACH IS ALSO CENTRAL TO THE STRATEGY, COULD YOU DISPLAY ITS MAIN AXES?
CPR AM relies on the ESG resources made available by Amundi Group. Alongside the Group's norm-based and sectoral exclusions, we also exclude companies subject to high ESG controversies as well as companies with the worst ESG practices both at a global level and on a selection of criteria relevant to the theme. With this regard, we have selected the three criteria that seemed the most obvious in terms of the main challenges at stake: 1/ water management, 2/ biodiversity & pollution 3/ supply chain with focus on environmental challenges. 10% of companies in the investment universe do not currently satisfy this triple extra-financial filter reducing the number of stocks of the investable universe to around 360. Our responsible approach is further completed by a continuous dialogue and engagement with some of the companies. Indeed, the Group has engaged in a major thematic commitment to the Circular Economy, covering four sectors – electronic equipment, batteries, textiles and construction materials. Amundi has also begun to step up its efforts in biodiversity by assisting companies in managing biodiversity-related risks and by urging them to disclose more data on this issue. CPR AM's analysts and fund managers pair up with Amundi's teams to strengthen their commitment to the theme's most relevant challenges. Finally, we also monitor specific KPIs, closely related to the challenges addressed by the strategy such as the carbon intensity and biodiversity footprint. Our objective is to build a portfolio that improves the selected KPIs compared to its investment universe.
TO CONCLUDE, COULD YOU SPEND A FEW WORDS ON THE PROFILE OF THE INVESTMENT UNIVERSE AND THE CONSTRUCTION OF THE FINAL PORTFOLIO?
In terms of MSCI sectors and without any surprise, the investment universe is skewed towards industrials, materials and consumer discretionary with no exposure to financials and healthcare. Geographically speaking and compared to the MSCI ACWI, the universe has a tilt to Europe and Asia and is less exposed to North America. Indeed, as of today, Europe is the most advanced geographical area on circularity. After defining the investable universe as seen earlier, we proceed with the construction of the portfolio. First, we apply a top-down approach in order to establish sector preferences. For instance, the macro-economic environment can determine a preference for cyclical or defensive sectors. Afterwards, within each of the identified sectors, we select the stocks that will enter the portfolio with the support of quantitative tools that target both financial and extra-financial targets. As we are exposed to a complete circular ecosystem covering all the stages of a product's lifecycle, the portfolio is pretty diversified and not fully concentrated. The final portfolio, which is actively managed, includes between 60 and 80 stocks.
Download the document below.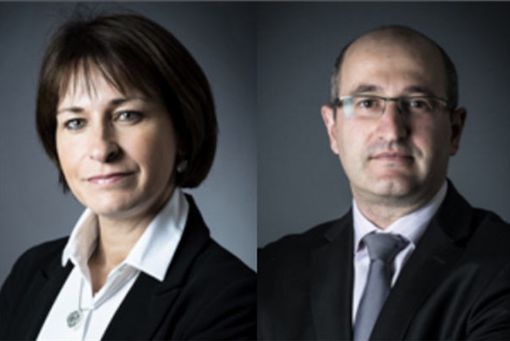 Anne Le Borgne & Stéphane Soussan, Thematic Equity Portfolio Managers