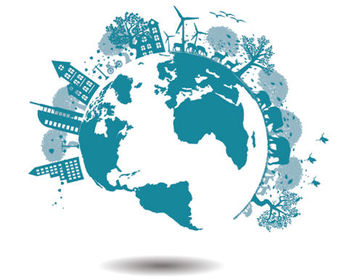 Delivering innovative, robust and scalable solutions that ensure sustainable performance for our customers is the commitment of CPR AM as a responsible financial player. A progressive approach based on the quality of our financial management, illustrated by our 30-year track record: from norm-based exclusion to ESG integration, then impact investing. That's why CPR AM has made impact investing a part of its culture and its actions as an asset manager, in the interest of its investors and society.

Responsible Investment, the translation of sustainable development into asset management, offers a more global vision of economic players, allowing them to understand all their risks and opportunities and to better appreciate their potential for long-term performance.
CPR Asset Management is convinced that investment in the financial markets is a means of introducing better practices on the part of both public and private actors. To achieve this, CPR AM relies on the resources made available by the Amundi Expertise ESG team, a non-financial research and analysis center common to the entire Amundi group.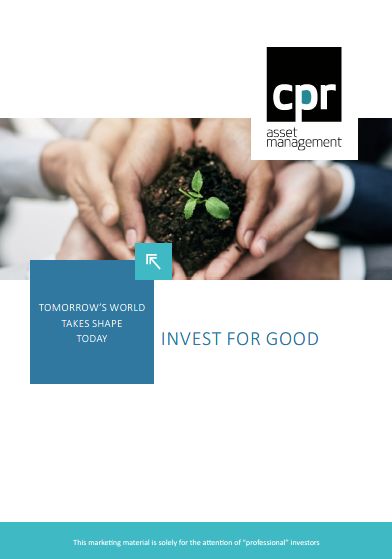 Environmental criteria: waste management, reduction of greenhouse gas emissions and prevention of environmental risks.


Social criteria: accident prevention, staff training, respect for employees' rights, the subcontracting chain and social dialogue.

Governance criteria: independence of the board of directors, management structure and presence of an audit committee.
TAKING MEANINGFUL ACTION TOGETHER
TRANSITION AS A SHARED RESPONSABILITY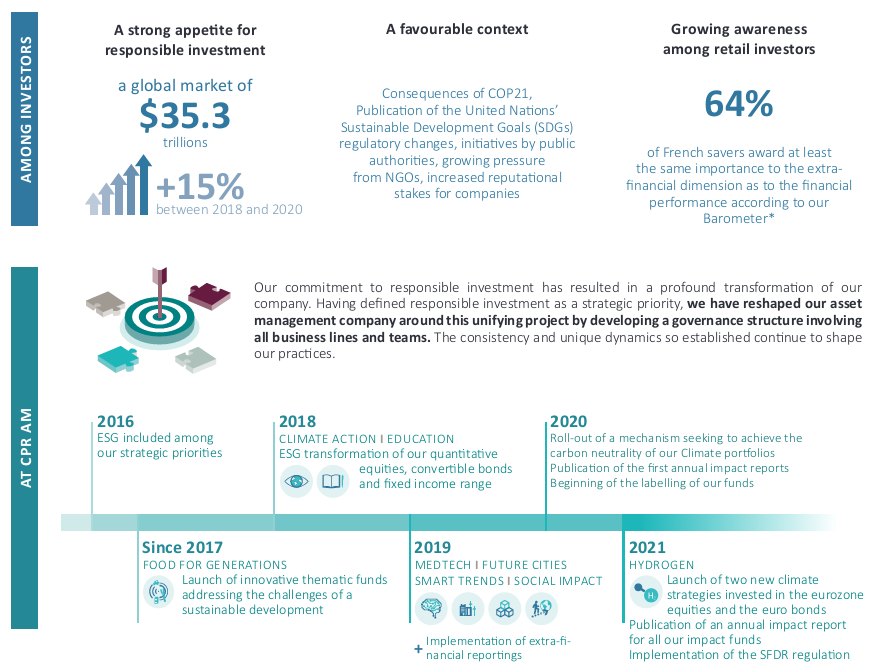 OUR RESPONSIBLE FUND RANGE: MOVING FORWARD TOGETHER WITH OUR CLIENTS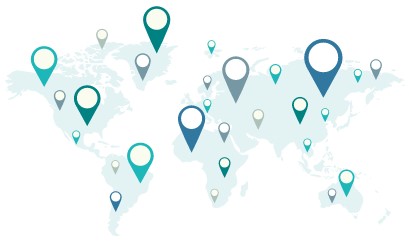 DEPTH OF RANGE, ACCESSIBLE TODAY
ESG solutions, Climate and impact range, CPR AM already offers a large choice of solutions for all asset classes, sectors and geographical areas. These solutions have been conceived to provide an answer to our clients' specific needs and integrate their regulatory constraints, their ethical engagements, their values and philosophy.
TRANSPARENCY: THE KEY OF A VIRTOUS CERCLE
Understanding the impact of an investment, the utility of savings, the externalities of management: these are some of the natural requirements of investors. As such, for all our funds with a responsible approach we complement the financial reportings with carbon and ESG data.
Furthermore, we publish an annual impact report for all our impact funds. The transparency towards our clients with regards to the impact generated by their investments engenders a virtuous circle. Through the published metrics, we are willing to enhance the impact of our investments in relative terms compared to a reference index or universe and also in absolute terms through their improvement over time.
Our responsible approach has been audited and certified: twenty-one funds of our open-ended range have been awarded at least one label in Europe. Also, through a collaborative initiative with CDP, CPR AM and Amundi have been the first asset managers to use the CDP temperatures to empower their ESG research capabilities and measure the temperature of investment universes.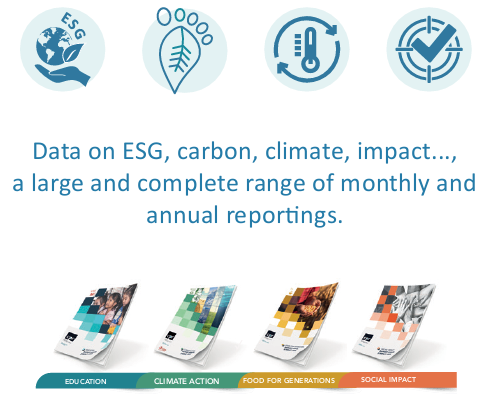 OUR ENGAGEMENTS
Anxious to support the management proposed by an active reflection around responsible investment, CPR Asset Management sits at the Commission in charge of SRI (Socially Responsible Investment) within the Association Française de Gestion Financière (AFG).
Alongside its shareholder Amundi, CPR Asset Management has been committed since 2006 to the Principles for Responsible Investment ( PRI ), promoted by the United Nations Global Pact.

Our Group actively participates in workshops led by market organizations aimed at developing responsible finance, sustainable development and corporate governance. We are a member of the Association Française de Gestion financière (AFG), the European Association of Asset Management (EFAMA), the Institut Français des Administrateurs (IFA), the Observatoire de la Responsabilité Sociétale des Entreprises (ORSE), the Société Française des Analystes Financiers (SFAF), Sustainable Investment Forums (SIF) French, Spanish, Italian, Swedish, Canadian, Japanese and Australian, and the French association "Entreprises pour l'Environnement ".
This work is the subject of a commitment report published annually by the ESG Analysis and Corporate Governance team of the Amundi group.
VOTE AND SHAREHOLDER DIALOGUE
For CPR AM, the financial performance of companies can only be sustainable in a long-term vision. This is why CPR AM fully plays its role as a shareholder, particularly through the exercise of its voting rights and shareholder dialogue, the voting policy being applicable to all entities of the Amundi group and implemented by Amundi AM.