Our expertise

Thematic investing
Thematic investing


With more than 20 billion euros in assets under management in thematic funds, CPR AM has offered an innovative range of thematic investing solutions for more than 10 years.
What is thematic Investing ?
Technological innovations, demographic and social trends, fast urbanisation and environmental challenges, etc… The world is changing and alongside all its ecosystem. An increasingly complex, connected and ever changing world, where unprecedented digital innovations are disrupting the value, and at a time when we are facing major human and climate challenges to build the world of tomorrow for future generations.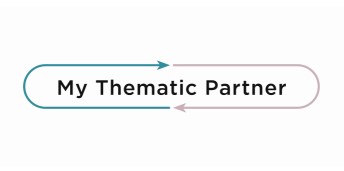 At CPR AM, we are monitoring the megatrends that are driving our world and view them as many investment opportunities to seize. When these trends are part of sustainable development issues, it becomes our responsibility to propose solutions to manage the risk they pose to our societies and inevitably to investments. Disruption, ageing population, education, food challenge, climate action, reduced inequalities are a few examples.
Our thematic approach provides an alternative to traditional strategies by seeking to capture sources of growth and performance through genuine long lasting trends to offer sustainable and transparent solutions to our clients.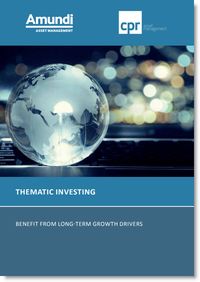 Our approach of thematic investing
Our unique and innovative approach consists in favouring themes where the fundamentals are not only about one sector. A broad definition of the investment universe is good for diversification and lowers sector risk. Fueled by our managers' convictions, portfolio construction is able to adapt to economic cycles and market regimes.
The main risks related to this strategy are the risks of loss of capital, shares, interest rates, credit and foreign exchange. The legal documentation of the UCI should be referred to for detailed information on its risk profile.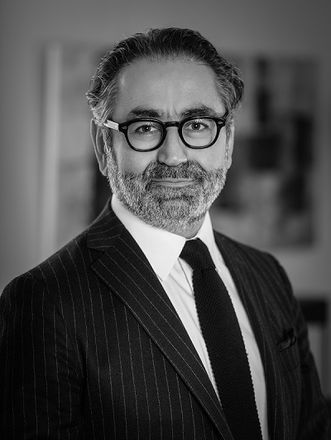 Vafa Ahmadi,
Executive Committee Member, Head of Global Thematic Equities Management
Why thematic investing ?
Thematic investing seeks to identify structural trends able to generate long-term growth, in order to provide robust and resilient investment solutions irrespective of economic conditions and events. In a context of market turmoil, thematic investing stands out as an alternative to cyclical hazards.
The Equity market has been polarising between passive strategies (index funds and ETFs) and higher conviction active strategies. Deviating from a constraining reference index, thematic funds are gaining ground as core holdings within a portfolio by bringing an extra alpha.
"We are commited while designing our strategies, to avoid passing fads"
Vafa Ahmadi

Who is thematic investing for?
A thematic approach offers an understandable way to invest in tomorrow's winners and act for the future. By selecting a theme, investors could give a sense besides its investments and return: a sense as the ability to understand concretely the companies' activities and a sense as a judgement of a sustainable idea with social, environmental or governance considerations.
Thematic investing is suited for investors:
having a long-term investment horizon and consenting to a high level of risk
wishing to benefit from a higher return than that of equity markets on the long term while accepting periods of underperformance due to short term market variations
seeking to diversify their portfolios.
Thematic investing may result in excluding from the investment universe some sectors that are not related to a given theme. Therefore, it is likely to generate substantial performance gaps with a market index.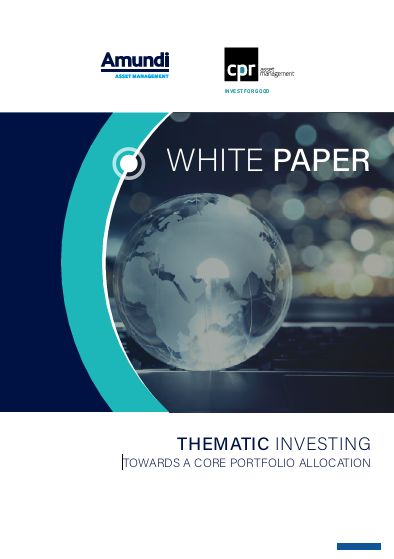 Thematic allocation adjusted according to your needs
Our experience today enables us to draw a number of conclusions on thematic funds' behaviour and to establish some principles to extend their use in the future. The challenge is no longer to employ thematic investments as satellites or diversifying assets. The challenge is to build a thematic allocation that can become part of the core portfolio allocation - both for retail and institutional clients. The increasing diversity in thematic investing, in terms of sectors, regions, market capitalisations and risk profiles makes this shift towards thematic allocation possible.

Where impact meets Thematic Investing
CPR AM was delighted to take part to the third Amundi Thematic Investment Day in virtual format in Paris "Where impact meets Thematic Investing".
The 2021 edition explored the relationship between impact and thematic investing and how investors can contribute to the construction of a profitable economy capable of preserving public goods.
The event was animated by a distinguished panel of experts with among others:
Pavan Sukhdev, Founder-CEO of GIST and UNEP Goodwill Ambassador;
Alexandre Mars, Serial Entrepreneur and Philanthropist, Founder and CEO of EPIC;
Bruce Friedrich, Co-founder and Executive Director of The Good Food Institute.
Amundi and CPR AM will continue to be the Impact thematic partner of investors by offering a tailor-made service offer